What Is DDoS Attack Anyway?
DDoS or distributed denial-of-service (DDoS) attack occurs when multiple systems flood the bandwidth or resources of a targeted system, usually one or more web servers. Such an attack is often the result of multiple compromised systems (for example a botnet) flooding the targeted system with traffic. – via wikipedia

Risk assessment is a critical part of any security strategy. Only by understanding the real risks associated with a given threat can you determine the most appropriate way to address them, as well as the right level of investment.
To claculate such risks, it is good to know that there are tools that help you assess the risks that is associated with the possibility of being attacked. Incapsula's new DDoS Downtime Calculator is one of those tools that is designed to help you assess the risks associated with a DDoS attack, offering information that can be adjusted to the realities of your site.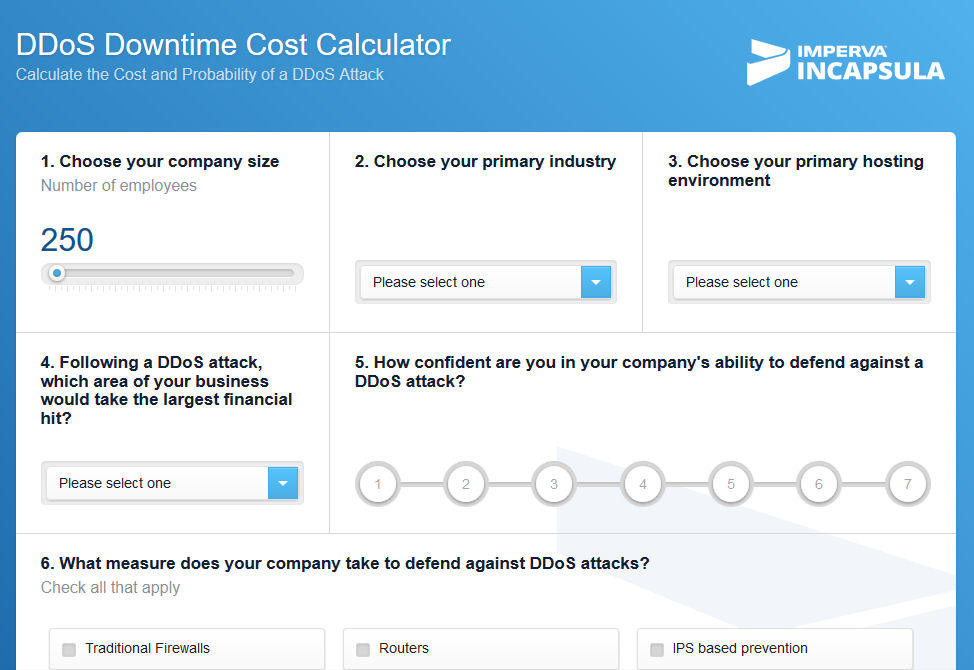 as per Incapsula's Information…
Based on Real-World Information
The algorithm inside our DDoS Downtime Calculator is based on real-world information from a DDoS Impact Survey we conducted among 270 organizations representing various sizes and industries. Participants provided detailed information about the actual impact of DDoS attacks (e.g., frequency and length, overall costs, affected business unit).

Our subsequent data analysis uncovered factors that cause impact cost variances. These insights helped us estimate the probability that your organization will incur a DDoS assault.

Further, the results enabled us to design our DDoS Downtime Calculator to provide personalized risk assessments based on:

Company size
Industry
Type of hosting environment (e.g., cloud, VPS, own data center)
Most vulnerable operational area
Security measures in place
Current level of confidence in DDoS prevention capabilities
see also: Prepare Your Business for DDoS Attacks Before It's Too Late
How It Works
To use Incapsula's DDoS Download Calculator, simply visit the calculator page and answer six short questions about your organization and its existing security measures. (No registration is needed.) Or better yet, try the Business plan for 7 days free and see for yourself what the service can do for you and your web property.

Based on your input, using a series of linear regression models, the calculator then estimates:

The probability that your organization will ever be hit by a DDoS attack
The probability that your organization will be targeted in the next year
The cost per hour of such an assault
Expected annual cost of attacks if DDoS protection measures are not adopted

It's our hope that the revealed data will help raise awareness of the threat posed by DDoS attacks, while also helping those organizations taking their first steps in formulating their DDoS mitigation strategy.
Save